Best Sprinklers for Small Lawns
Regardless of the size of your lawn, a sprinkler has the capability to water it evenly and ensure that your grass is fresh and healthy. It can save both time and energy, along with reducing waste water which may not be evenly distributed around the yard if you were to manually water it yourself. 
A small lawn often doesn't require a particularly advanced irrigation system, so thankfully there are plenty of options available for sprinkler hose attachments. These attachments come in a variety of sizes and can be suitable for lawns in a vast variety of sizes. Different kinds of lawn sprinklers can be used for different purposes, and each one has its benefits and disadvantages to consider. 
If you're looking for our choices for the best sprinklers for large lawns, click here. 
Pick 1 - Our Choice
VLAY Lawn Sprinkler
Pick 2 - Budget Option
Rain Bird 22SAFPRO
Melnor Metal Oscillating Lawn Sprinkler
Gilmour Heavy Duty Spot Sprinkler
Things to Consider
When investing in a sprinkler, regardless of size, one of the first things you should do is consider some of the variables that can affect its performance. These factors can change the type of sprinkler that would be best suited for your needs, or rule out some of the types of sprinklers that would be unsuitable. 
Size of Lawn
The size of your lawn should always be considered when looking to purchase a new sprinkler. Certain types of sprinklers fare better in smaller yards than larger ones, and it's a matter of finding out which ones work best in your scenario. The size of your lawn should also be considered if undertaking a larger task such as designing a sprinkler system.  
Shape of Lawn
The shape of your lawn can also help determine which sprinkler is best for you. For instance, a lawn which is rectangular or long and thin would benefit mostly from an oscillating sprinkler due to the shape of the spray that it releases and the distance which it reaches. While certain sprinklers work best for square and rectangular shaped yards, there are also sprinklers that work best in irregularly shaped lawns too, such as pulsating sprinklers and rotary ones.
Price
The price of a sprinkler can vary wildly depending on the type, size, performance and durability. When shopping for a sprinkler for a small lawn, use your own judgement and try to find a sprinkler that will do the intended job but on a budget. 
Water Pressure
The quality of your water pressure can also influence which type of sprinkler is best for your yard. Most sprinklers, especially the high-end ones, rely on high water pressure to function effectively. Having low water pressure outside your home can limit the different kinds of sprinklers you can install. There are ways in which you can increase your water pressure to your sprinkler system, but it's certainly an aspect worth considering before purchasing a sprinkler.
Type of Lawn
Even the type of lawn you have can affect your choice of sprinklers. Certain types of grass can require less watering than other types, meaning that you should choose a sprinkler that can handle the amount of water that will be needed for your lawn. 
Irrigation System
Do you have an irrigation system? If you have an irrigation system installed, it can both limit and broaden the selection of sprinkler heads available to you. Some sprinkler heads can only be attached to pre-existing irrigation systems, whilst others can only be attached to hoses or faucets. If your garden is particularly small, the chances are that you probably don't have a built-in sprinkler system outside, meaning your options should be limited to hose attachment sprinklers. 
Maintenance 
Occasionally, sprinklers will need maintenance to keep them running correctly. Certain types of sprinklers are likely to need more maintenance than others. If you have an irrigation system, winterizing it needs to be done every year to prepare for the cold, in addition to any other repairs that need doing such as unclogging sprinkler heads. 
Types of Lawn Sprinklers for Small Lawns
As mentioned previously, different types of lawn sprinklers work best in certain settings. Small lawns typically don't require as much water as a large one would, meaning that there are only a couple of sprinkler types that would work best in a small lawn. 
Oscillating Sprinklers
Oscillating sprinklers come in many different sizes, meaning that whilst there are larger models out there, there are still smaller ones that are much better suited for smaller yards. Oscillating sprinklers are reliable and easy to find and install. They will often easily hook straight up to an outdoor faucet. 
Stationary Sprinklers 
Stationary sprinklers are perfect for small spaces as they remain in one place, have a smaller watering range, and are also tiny in size. Stationary sprinklers are also sometimes known as spike sprinklers or fixed sprinklers due to their nature. They can be easily moved around the garden due to their small size and more than one can easily be installed for added coverage.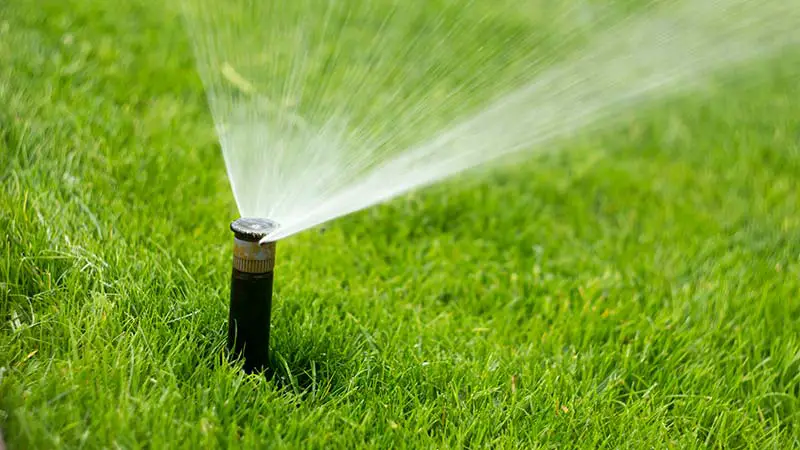 The Best Lawn Sprinklers for Small Lawns
Sprinklers for small lawns are fairly easy to come across when looking for hose and faucet extensions. These sprinklers can often be paired up with other sprinklers of the same type or different types all together to give your garden the adequate amount of water it needs. 
#1 VLAY Lawn Sprinkler
The VLAY Lawn Sprinkler is the ideal choice for watering a small lawn. Its rotary 360 degree head allows for full and continuous coverage, ensuring your garden will receive a healthy amount of water. The VLAY Lawn Sprinkler has a large coverage range, ensuring that a small garden is likely to be fully covered by just one or two of these sprinkler attachments. In addition to this, the VLAY Lawn Sprinkler is durable, easy to store, and will be able to be used year in, year out without issue.
#2 Rain Bird 22SAFPRO
Sale
Rain Bird 22SAFPRO High-Efficiency Pro Rotary Sprinkler, 360° Full Pattern, 17' - 24' Spray Distance, 4" Pop-up Height
Hand adjustable, pro-grade sprinkler sprays multiple rotating streams of large water droplets in a 360° pattern
Provides ultra-uniform, wind resistant coverage from sprinkler head to edge of pattern
Up to 30% water savings and further spray distance than traditional pop-up spray nozzles
Replace existing pop-up sprays or use in the same zone; perfect for low water pressure or compacted soils
Reduces soil erosion, wasteful water runoff and gentle enough for newly seeded areas
The Rain Bird 22SAFPRO is perfect for small areas. This cheap, appealing sprinkler can easily be used in a group, or can be used individually if specific small areas need coverage. Made for vegetable patches and flower beds, the Rain Bird 22SAFPRO is a small but effective piece of kit that can be hooked up to a hose and planted wherever it is needed. As a rotary sprinkler, the Rain Bird 22SAFPRO can water an area size much larger than its own, and is perfect for small, irregularly shaped lawns
#3 Melnor Metal Oscillating Lawn Sprinkler
Melnor XT4200M XT Metal Oscillating Lawn Sprinkler, Black
20 Precision nozzles provide maximum coverage of large lawns or gardens up to 4, 200 sq. Ft.
Twin touch controls adjust the width and range of the watering pattern to cover the whole yard or a narrow flower bed.
Zoom control adjusts the overall watering area. Zoom in for a small patch of newly seeded lawn or all the way out to cover a large section of the yard.
Infinity turbo drive provides a smooth operation for even watering and extended life.
Backed by the Melnor Limited Lifetime . Melnor stands behind its products.
As mentioned earlier, oscillating sprinklers are often used in smaller gardens as smaller ones can easily be found, or they offer adjustments that are ideal for smaller gardens. The Melnor Metal Oscillating Lawn Sprinkler is no different in those regards, as it offers the ability to adjust the breadth of the spray and the amount of area that is being watered. 
#4 Orbit Impact Sprinkler
Sale
Orbit 56667N Zinc Impact Sprinkler on Tripod Base
LARGE-AREA COVERAGE: Sprays up to 85 feet in diameter, covering 5,670 square feet when set to a full circle. Ideal for large lawn areas.
DURABLE CONSTRUCTION: Quality zinc materials ensure it will last season after season.
ADJUSTABLE COVERAGE: Easily adjust spray coverage from a partial section to full 360° watering. Distance adjustment up to 80 feet
CUSTOMIZABLE SETTINGS: Use the deflector shield and diffuser screw to alter the stream and change the spray distance radius anywhere from 20 to 42 feet. Tripod base adjusts from 16 inches to 37.5 inches in height. 1/2 inch male threaded impact head
ANTI-BACKSPLASH ARM: Improves the sprinklers ability to spray water in a consistent pattern and in the desired direction.
The Orbit Impact Sprinkler stands out due to the built-in tripod which it is supported by. This adjustable sprinkler can reach a height of anywhere from 17-32 inches and is perfect for watering shrubs and flower beds along with the rest of the garden. As an elevated impact sprinkler, it requires a decent amount of pressure to work effectively, but it can sometimes make do with lower levels of water pressure. 
#5 Gilmour Heavy Duty Spot Sprinkler
Sale
The Gilmour Heavy Duty Spot Sprinkler is a simple, reliable sprinkler which works best for the smallest of yards. It has a spray diameter of 30ft and creates a mist that will gently water its surroundings. It is easy to set up and attach directly to the end of a hose. In addition to this, the zinc metal that it is made from is durable and withstanding. 
Final Thoughts
The size of your lawn shouldn't limit your sprinkler options too drastically. Knowing what your lawn needs is the first step to finding a suitable sprinkler that will water it efficiently and effortlessly.