Best Sprinklers for Large Lawns
When installing a sprinkler system, the sprinkler heads are one of the most essential parts that need to be carefully considered. The size, range, and type of sprinkler head that is used can make a massive difference to your irrigation system, and can vastly improve the quality of your lawn.
Having a large lawn can lead you to needing different sprinkler types than a small lawn would. Different types of lawn sprinklers have different benefits and disadvantages that may work in favor of or against a larger lawn. 
Pick 1 - Our Choice
#1 Nelson 818653-1003 Traveling Sprinkler RainTrain
Pick 2 - Budget Option
Orbit 56186N Brass Impact Sprinkler
Orbit Traveling Sprinkler 58322
GARDENA 1975 Aquazoom Oscillating Sprinkler
Melnor 65031-AMZ MiniMax Turbo Oscillating Sprinkler
Things to Consider
When choosing a lawn sprinkler for your garden, regardless of circumstance, it's important to consider the different variables that can affect its performance and effectiveness. These considerations should be used when designing a lawn sprinkler system, as making changes once the system is in place can be invasive and should be avoided where possible.  
Lawn Size
The size of your lawn can affect the type of sprinkler head which is best suited, along with the range that the sprinkler has. A large lawn is more likely to require more sprinkler heads or a sprinkler system that will cover more land. 
Type of Lawn
The type of lawn you have can also affect the type of sprinkler you should use. Certain types of grass require less watering and are more likely to withstand certain environments more than others. Knowing the type of grass your lawn is made up of can influence the type of sprinkler you use as some sprinklers can produce more water than others.
Shape of Lawn
The shape of your lawn can also determine which type of sprinkler head is best suited, as certain types of sprinkler work best for square or rectangular lawns, while others are more sufficient for irregularly shaped lawns. Oscillating sprinkler heads, for example, are best used for square or rectangular lawns due to the range that they have, while pulsating sprinklers are best used in irregularly shaped gardens thanks to the way water is dispelled from them.
Climate
The climate you live in and the type of weather you're likely to experience can influence the type of irrigation system you use. In an area which regularly sees drought or extremely hot, humid weather, a long-lasting, purpose built irrigation system is usually installed. However, if you live in a climate that only occasionally sees hot summers, or doesn't suffer from drought, then a small, hose-powered sprinkler system could be a useful solution to your dried out lawn. 
Your irrigation System
The irrigation system itself may play into limiting the types of compatible sprinkler heads that you can use. Underground sprinkler systems can limit the attachments that you can add to it, similarly to above-ground or hose-powered ones. Oscillating sprinklers, for example, are very rarely integrated into underground systems due to their shape and functionality. The same can also be said for traveling sprinklers. 
Price
The price you're willing to spend will also play a part in deciding which sprinkler heads or system will work best for your lawn. A large lawn will require more sprinkler heads and more water to operate the irrigation system, so finding the most budget-friendly option for your lawn may be something worth taking into consideration. 
Maintenance
A larger lawn irrigation system will require more maintenance and may be harder to fix if something were to go wrong. Whilst some maintenance tasks such as unclogging a sprinkler head may be fairly straight-forward and easy to fix, other tasks such as dealing with a burst pipe or even annual tasks like winterization may take longer and be a more expensive and invasive fix due to the size of the task. 
Water Pressure
Your irrigation system's water pressure and flow rate can also massively affect the types of sprinkler heads that can be attached to it. Traveling sprinklers often require substantial water pressure to work correctly, as many other types of far-reaching sprinkler heads do. There are ways to increase your water pressure for your irrigation system, but double-checking what your standard water pressure outside is like before investing in a system or new sprinkler heads is good practice.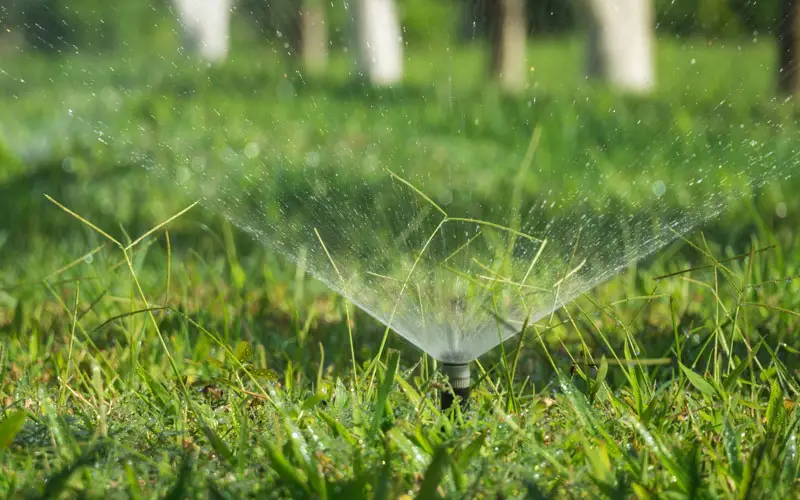 Types of Lawn Sprinklers for Large Lawns
As previously mentioned, there are certain sprinklers that work best when used for larger lawns due to their reach and shape. 
Traveling Sprinklers
Traveling sprinklers are ideal for large areas of grass due to the area that they cover. Traveling sprinklers come in a variety of sizes, but even the smallest ones are best used in large areas. These sprinklers are sometimes also known as tractor sprinklers due to their assembly, being propelled along by two wheels on either side of the contraption. Travelling sprinklers follow the hoseline that they are attached to, and water sprays out the top as they move along the line, being propelled forward by the water pressure. These sprinklers require both a lot of space and high water pressure to operate successfully. Traveling sprinklers require little assembly as they can simply be attached to a faucet via a hose and be used straight away. 
Pulsating Sprinklers
Pulsating sprinklers reach great heights due to the way they disperse water. They produce water in two separate streams, and spin as they're doing so. As a result, water is scattered far and wide by pulsating sprinklers. Pulsating sprinkler heads, unlike traveling sprinklers, can be attached to underground irrigation systems or can be attached to a hose which is connected to a faucet. 
Impact Sprinklers
Impact sprinklers are similar to pulsating sprinklers in the sense that they produce a continuous stream of water in a circular motion around the lawn. Impact sprinklers are quite small and compact, but due to the circular motion the water is distributed in, they are useful in larger areas. 
Oscillating Sprinklers
Oscillating sprinklers are a popular type of sprinkler due to their ease of access and inexpensiveness. Oscillating sprinklers work by having a continuous spray of water moving back and forth like a pendulum. Oscillating sprinklers work best in square or rectangular gardens due to the shape of the spray which they produce, but depending on their size, can cover large amounts of areas. Oscillating sprinklers can be easily installed by adding them to the end of a garden hose. 
The Best Lawn Sprinklers for Large Lawns
Once you've taken into consideration all the factors that you will need to think about, you can begin to think about what kind of lawn sprinkler will work best for your lawn. 
#1 Nelson 818653-1003 Traveling Sprinkler RainTrain
Sale
The Traveling Sprinkler RainTrain by Nelson is the perfect example of an effective traveling sprinkler. The RainTrain is slow moving, enabling every area it passes to receive a healthy dose of water as it passes by, and has long reach meaning that even grassy  areas far away will be getting watered. 
The Nelson Traveling Sprinkler is affordable, wide reaching and durable – given its cast-iron body. As with all traveling sprinklers, however, the Nelson Traveling Sprinkler isn't immune to pets getting over excited and knocking it over or derailing it, and it also has the potential to become stuck whilst on its rounds. The Nelson Traveling Sprinkler has a range of anywhere from 15ft to 55ft depending on how the arms are adjusted. It can cover up to 13,500 square feet with a travel distance of 200ft. It's extremely useful for long lawns or yards. 
#2 Orbit 56186N Brass Impact Sprinkler
Sale
Orbit 56186N Brass Impact Sprinkler on Wheeled Base, Green
Orbit brass impact Sprinkler on wheeled base will not tip over
The Orbit impact Sprinkler has large wheels that makes it easy to move
The Impact head is made of brass with a stainless Steel control mechanism
The large wheeled base is all metal construction with swivel connection to hose
For outdoor use with cold water Only
The Orbit Brass Impact Sprinkler is a robust piece of equipment that works similarly to every impact sprinkler. Its wheeled base sets it apart from similar sprinklers, and they are both sturdy and small. The sprinkler itself reaches a distance of 90ft as it rotates a full 360 degrees, ensuring the full width of the garden is watered. The Orbit Brass Impact Sprinkler is also adjustable, meaning it can also be used in smaller areas as well. Given its size, multiple impact sprinklers can be run at the same time, allowing for even more space to be covered. 
#3 Orbit Traveling Sprinkler 58322
Sale
The Orbit Traveling Sprinkler works as a traveling sprinkler should. It is robust, durable, and has acceptable reach. The Orbit Traveling Sprinkler is heavy, and offers a great deal of stability when it's up and running. In addition to this, the Orbit Traveling Sprinkler also offers a range of 200ft distance, and offers coverage of 13,500 square feet. One thing to be aware of is that the Orbit Traveling Sprinkler requires a lot more water pressure than some other options on this list to enable it to run smoothly, due to its weight and material.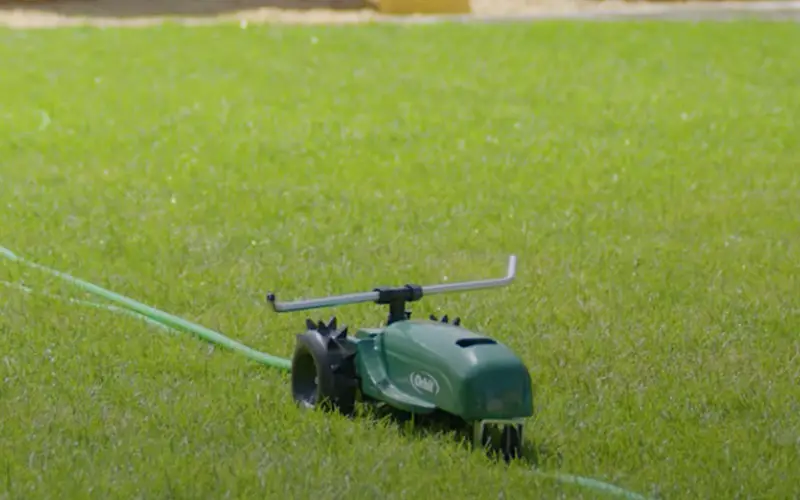 #4 GARDENA 1975 Aquazoom Oscillating Sprinkler
Gardena 1975-U AquaZoom Fully Adjustable oscillating Sprinkler, for Flexible, Leak Proof and Precise Watering, Compatible with Any Hose Brand, Made in Germany, 1975: 3900 SQ. FT, Grey
Even watering: The nozzles of the oscillating sprinkler continuously ensure even and precise lawn watering on areas between 96 sq ft and 3900 sq ft while preventing puddles or dry patches formin
Versatile: With 2 different adjustment options, alter the watering range to fit your garden using the built in sliders, and modify width for precise watering using the width controllers
Super durable: While the high quality, German made materials ensure durability, the extra-wide supporting feet and metal components helps the sprinkler stand firmly
Easy to clean: The water connection of the AquaZoom has a removable, rust-free metal filter that prevents dirt from entering the oscillating sprinkler and can be easily cleaned with a tap
Items delivered: 1x GARDENA AquaZoom Oscillating Sprinkler, made in Germany with 3900 sq ft max area coverage, 9 ft - 59 ft range of spray, 45 ft max width, with 1x GARDENA quick connect fitting
Whilst oscillating sprinklers are generally useful in larger areas, the GARDENA Aquazoom Oscillating Sprinkler stands above most of the others. This sprinkler has an adjustable width, meaning it can achieve a coverage from 301.4 to 3767.4 square feet. As with all oscillating sprinklers, the GARDENA Aquazoom Oscillating Sprinkler is best suited to a garden that is square or rectangular in shape due to the uniform spray which it produces. This sprinkler is serviceable even when run on low pressure, although high pressure is still ideal. As these sprinklers also only require a hose connected to a faucet, several can be set up at once to water even larger areas of grass. 
#5 Melnor 65031-AMZ MiniMax Turbo Oscillating Sprinkler on Step Spike
Melnor 65031-AMZ MiniMax Turbo Oscillating Sprinkler on Step Spike with QuickConnect Product Adapter Set, Black, Yellow
Coverage up to 3, 900 sq. Ft. Great for watering the lawn, newly seeded areas, or a large garden
Four-way adjustment for Precision watering right where it's needed. Material-Metal, Plastic
Zoom control adjusts the overall watering area. Zoom in for a small patch of newly seeded lawn or all the way out to cover a large section of the yard
Quickly connect and disconnect the sprinkler with an included Quick Connect Product Adapter (Require Quick Connect Product End Connector sold separately)
Backed by a Melnor Limited Lifetime . We stand behind our products.
The Melnor 65031-AMZ MiniMax Turbo Oscillating Sprinkler is a small but powerful device, which works best when used in tandem with another sprinkler of the same type. Despite its minute looks, the Melnor 65031-AMZ MiniMax Turbo Oscillating Sprinkler can reach a coverage of 3,900 square feet. This sprinkler is perfect for gentle watering, such as watering fresh grass seed or sod. Along with this, the Melnor 65031-AMZ MiniMax Turbo Oscillating Sprinkler is also highly adjustable and can suit a wide variety of purposes. 
Final Thoughts
When choosing a sprinkler for your garden, you must first consider the different variables that can affect the performance of a sprinkler. Whether these variables be the size of the garden, the climate or even whether or not the water pressure is substantial enough to maintain a bigger sprinkler, they are definitely worth thinking about before investing in a potentially expensive bit of kit.