How To Get Rid of A Lawn Full Of Weeds
A lush, green lawn is a dream for many homeowners, but it's often hindered by the presence of persistent weeds. Getting rid of these unwelcome intruders is not only a matter of aesthetics but also an essential step in maintaining the health and vitality of your turf. This article will provide practical and effective strategies to help you reclaim your lawn from weeds.
Weeds compete with your grass for essential resources such as sunlight, water, and nutrients, making it difficult for your lawn to thrive.
By understanding the root causes of weed growth and implementing targeted solutions, you can effectively eliminate these nuisances and prevent their resurgence. Let's dive into the best approaches for transforming your weed-infested lawn into a lush and healthy oasis.
Assessing Your Lawn's Condition
Before attempting to rid your lawn of weeds, it's essential to assess its overall condition. By understanding the types of weeds present and your lawn's health, you can decide on the best course of action. This section will help you determine the weed types and evaluate the health of your lawn.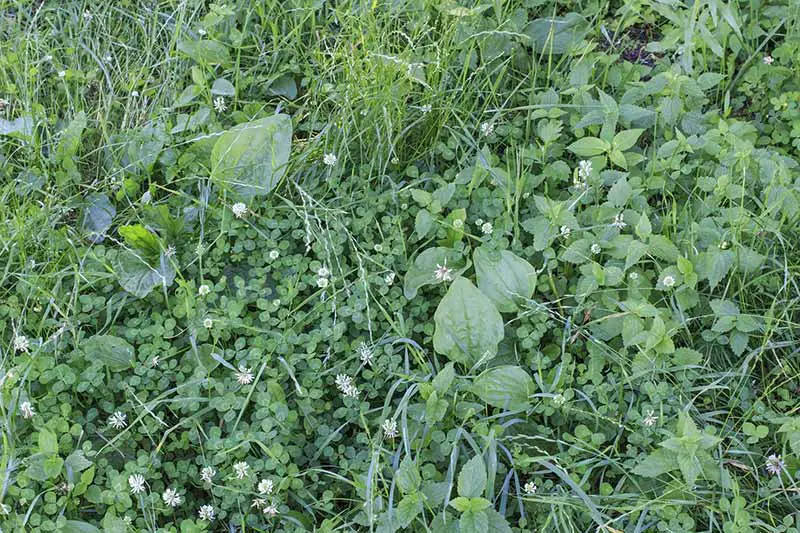 Determining Weed Types
Weeds can be grouped into three main categories:
Broadleaf weeds (e.g. dandelions, clover, and plantain)
Grassy weeds (e.g. crabgrass, annual bluegrass, and quackgrass)
Sedges (e.g. nutsedge and kyllinga)
Identifying common weeds in your lawn is an essential first step in effectively addressing the problem. To determine which type of weeds are prevalent in your lawn, take note of their distinct characteristics, such as leaf shape, color, and growth patterns. You can also consult guides or seek professional advice for accurate identification.
Evaluating Lawn Health
An unhealthy lawn is more prone to weed infestation. To assess your lawn's health, check for these indicators:
Grass density: Sparse or uneven grass growth can invite weeds.
Color: Uniform and vibrant green coloration signifies a healthy lawn.
Soil condition: Compacted or poorly drained soil can lead to weed growth.
Presence of pests: Insects and other pests can harm grass and create openings for weeds.
Once you've assessed your lawn's condition and identified the types of weeds present, you can move on to the next section, where we'll discuss various methods to get rid of a full lawn of weeds.
Cultural Weed Control Methods
Cultural weed control methods focus on creating a healthy lawn environment and strengthening desirable grasses to outcompete weeds. This section discusses two sub-categories: mowing and watering techniques, and fertilizing and soil amendments.
Mowing and Watering Techniques
Proper mowing and watering can prevent weeds and promote the growth of healthy grass. Key techniques include:
Keep a consistent mowing height: Depending on the grass species, this can range between 2 to 4 inches. Taller grass shades the soil, preventing weed seeds from germinating.
Mow with a sharp blade: Dull blades can cause irregular cuts, making the grass more susceptible to diseases and weed invasion.
Water deeply and infrequently: Water the lawn deeply (around 1 inch) once or twice a week, depending on the weather, to allow the grass roots to grow deep and strong. Shallow watering can promote weed germination.
Water in the early morning: This reduces water loss due to evaporation and avoids extended periods of dampness that promote diseases.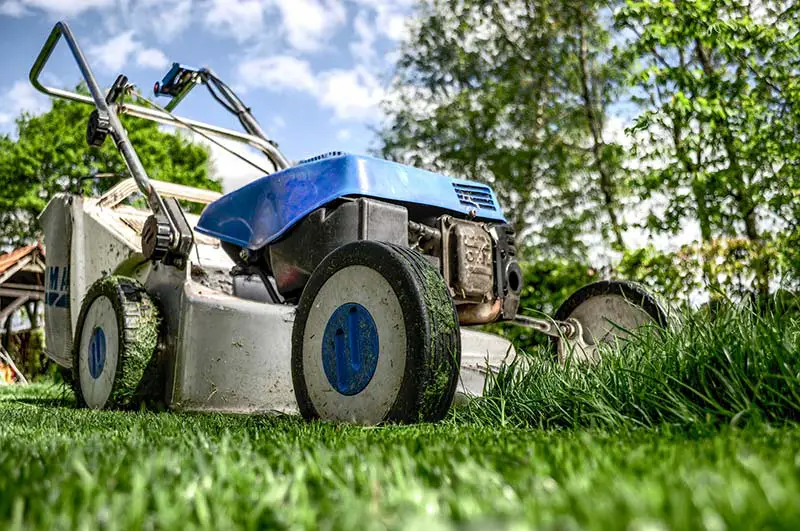 Fertilizing and Soil Amendments
Maintaining proper soil fertility and improving soil structure can help prevent weed infestation. Here's how:
Test your soil to check the pH, nutrient levels, and organic matter content. Based on the results, you may need to add a specific type of fertilizer or amend the soil to improve its structure.
Apply the right fertilizer at the right rate and at the right time. Using too much or too little fertilizer can encourage weed growth.
Incorporate organic matter, such as compost or aged manure, to improve soil structure, increase water infiltration, and support beneficial microorganisms that help combat weeds.
Practice crop rotation or overseed your lawn with different types of grasses that can compete with weeds for resources.
Mechanical Weed Control Methods
Mechanical weed control methods are an effective and chemical-free way to remove weeds from your lawn. In this section, we'll discuss hand-pulling weeds and using specialized tools.
Hand-Pulling Weeds
Hand-pulling is a simple and cost-effective method for removing small areas of weeds. It's most effective on young, shallow-rooted weeds that are easier to uproot. To hand-pull weeds:
Water the area to loosen the soil around the weeds.
Grasp the weed near its base, ensuring a firm grip on the stem and roots.
Gently pull the weed upwards and outwards to remove it with its roots intact.
Dispose of the weeds in a compost bin or trash bag.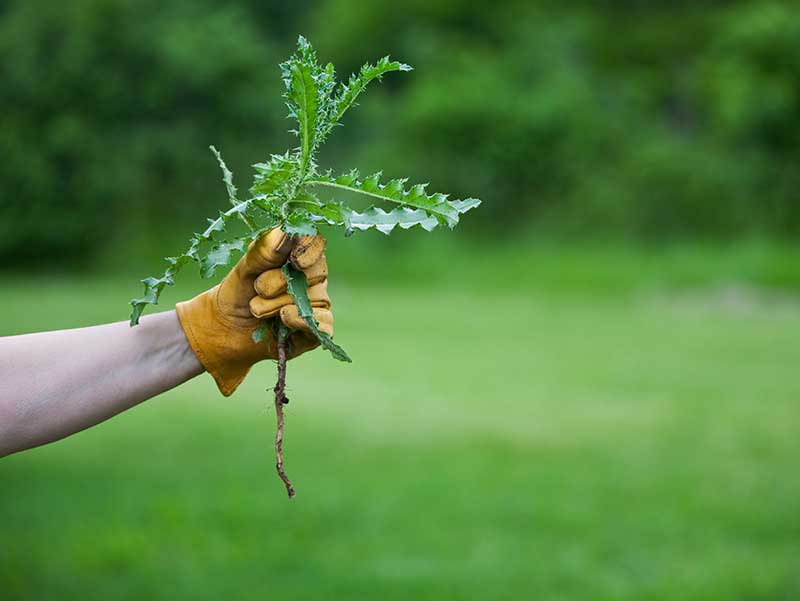 Using Specialized Tools
For larger areas and persistent weeds, specialized tools are an effective way to manage unwanted plants. Some common tools include:
| | |
| --- | --- |
| Tool | Description |
| Weeding hoe | A hoe with a sharp blade designed to cut through weed stems and roots just below the soil surface. |
| Dandelion digger | A long, narrow tool with a V-shaped blade used to remove deep-rooted weeds such as dandelions. |
| Garden claw | A tool with curved claws used to loosen and aerate soil to uproot multiple weeds at once. |
Using these specialized tools can make the task of removing weeds easier and more efficient. Be sure to follow the proper technique for each tool to ensure effective weed removal.
Chemical Weed Control Methods
Effectively managing a lawn full of weeds may require the use of chemical weed control methods. This section explores various herbicide options and their application.
Pre-Emergent Herbicides
Pre-emergent herbicides are used to prevent the germination of weeds before they become a visible problem. They create a barrier in the soil that inhibits weed seed growth. Some examples include:
Barricade (prodiamine)
Pendulum (pendimethalin)
Dimension (dithiopyr)
Timing is crucial for pre-emergent herbicides, as they need to be applied before weed seeds begin to germinate. Application typically occurs in early spring or fall.
Post-Emergent Herbicides
Post-emergent herbicides are applied to weeds that have already emerged from the ground. They are effective in controlling a variety of weeds, including:
Crabgrass
Dandelions
Clover
Chickweed
These herbicides can be applied to actively growing weeds throughout the growing season. Be sure to follow the label instructions for proper usage and application rates.
Selective and Non-Selective Herbicides
Selective herbicides target specific types of weeds without harming desired grass species. Non-selective herbicides, on the other hand, will kill all vegetation they come into contact with. Consider your lawn's specific situation when deciding which type to use:
| | |
| --- | --- |
| Selective Herbicides | Non-Selective Herbicides |
| 2,4-D | Glyphosate |
| Triclopyr | Diquat |
| MCPA | Glufosinate |
Always read and follow label instructions when using any herbicides, and take proper safety precautions to protect yourself and the environment.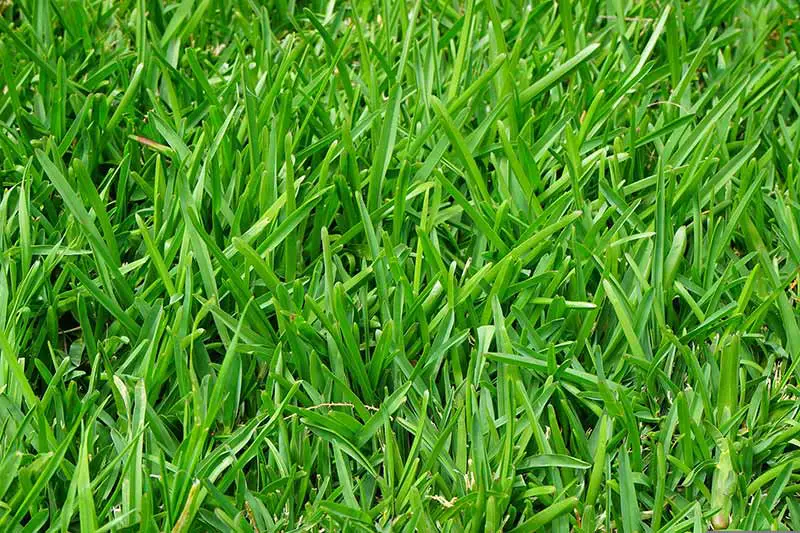 Preventing Future Weed Infestations
Maintaining a Healthy Lawn
A healthy lawn can outcompete weed growth. Water deeply and infrequently to help grass roots grow deeper while avoiding overwatering. Mow at the correct height and leave grass clippings on the lawn to provide nutrients. Apply an appropriate amount of fertilizer based on your grass type.
Using Landscape Fabric and Mulching
Landscape fabric and mulch can prevent weed growth by creating a barrier that restricts sunlight and access to the soil. Place landscape fabric over the soil and cover it with mulch. This method is suitable for garden beds and areas around trees and shrubs.
Aeration of the Soil
A well-aerated soil encourages healthy root growth, thus preventing weed infestation. Use a lawn aerator or hire a professional to perform core aeration, removing small soil plugs and reducing compaction. Ideally, aerate the lawn annually or as needed.
Planting New Seeds
Thicken your lawn by overseeding with appropriate grass seed. Filling in bare patches will leave less room for weeds to establish. Choose a grass variety that matches your regional climate and soil conditions for best results.
Conclusion
In summary, a lawn full of weeds can be overwhelming and unsightly. However, with the right approach, you can successfully transform your lawn into a healthy, weed-free oasis. These common types of weeds can disrupt the appearance of your lawn:
Dandelions
Crabgrass
Clover
Plantain
Chickweed
To get rid of a lawn full of weeds, consider the following methods:
Maintain a healthy, thick lawn to prevent weed growth.
Manually remove weeds by hand or with a weeding tool.
Apply natural or chemical herbicides to target specific weeds.
Utilize a wide range of organic solutions, such as mulch and vinegar.
Install a landscape fabric to prevent the growth of weeds from the very start.
Seek professional help from a lawn care specialist.
Remember, persistence and consistency are key in maintaining a weed-free lawn. It's essential to continue monitoring your lawn and addressing any weeds that appear without delay.