Best Oscillating Sprinklers
Amongst the different types of sprinklers, oscillating sprinklers are often chosen for their simplicity and versatility when it comes to setting up and using. Oscillating sprinklers are simple and effective, with ranges that can vary with different brands and models. They're great for both small lawns and large lawns, depending on the model. 
Quick Look: Our Top Picks for Best Oscillating Sprinklers
Pick 1-Our Choice
Melnor 65021-AMZ XT Turbo Oscillator
Pick 2-Budget Option
MAXFLO Oscillating Hose
Pick 3
Aqua Joe SJI-OMS16 Oscillating Sprinkler
Pick 4
Orbit 56281 Oscillating Sprinkler
Pick 5
GARDENA Aquazoom Oscillating Sprinkler
What is an Oscillating Sprinkler?
An oscillating sprinkler is one of the more common types of sprinkler and is often used as a hose attachment rather than being a part of a larger irrigation system. They are fairly cheap in comparison to some other sprinkler types, and they offer good coverage when in use. An oscillating sprinkler is a long and thin hose attachment that is attached to a base, and moves back and forth like a pendulum. The stream of water it produces is described as a wave as it distributes water over the lawn. 
Why Should I Use an Oscillating Sprinkler?
Oscillating sprinklers are cheap, simple to use and easy to store. They're ideal if you have a long, rectangular or square yard and do not have the intentions to purchase a larger irrigation system. 
Oscillating sprinklers offer good coverage, and due to their shape, are likely not to miss any areas of grass depending on where it is positioned in the yard. This reduces the risk of any grass potentially drying out or being missed during routine watering.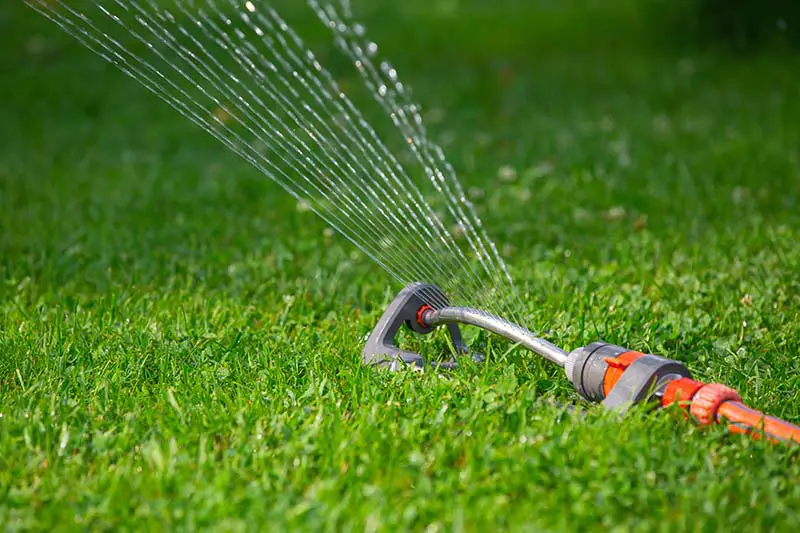 Best Oscillating Sprinklers 
When purchasing a sprinkler, remember to take into consideration your needs and budget. Each of these sprinklers have their benefits and disadvantages, and some are more suitable for certain gardens than others. 
#1 Melnor 65021-AMZ XT Turbo Oscillator
Melnor 65021-AMZ XT Turbo Oscillator with 2-Way Adjustment and Timer with QuickConnect Product Adapter Set, Amazon Bundle
20 Precision rubber nozzles provide maximum coverage of a large lawn or garden up to 4, 500 sq. Ft.
Built in mechanical timer lets you set how long you want to water, up to 2 hours and the water will automatically turn off after reaching the designated time.
Infinity turbo drive provides a smooth operation for even watering and extended life.
Quickly connect and disconnect the sprinkler with an included Quick Connect Product Adapter (Require Quick Connect Product End Connector sold separately)
Backed by the Melnor Limited Lifetime . We stand behind our products.
The Melnor 65021-AMZ XT Turbo Oscillator is the ideal choice for a small-to-medium-size garden. This attachment boasts 20 nozzles which can spray water up to 4,500 square feet. This sprinkler also has several adjustment options to maximize or minimize the amount of space which is covered by it, and can adjust to different spray patterns. 
The Melnor 65021-AMZ XT Turbo Oscillator also has a timer installed, meaning it can be set to run for up to two hours and can automatically shut off. 
What We Like:
Can water in multiple directions
Manual timer for shutoff
Comes with nozzle cleaner
Can cover up to 4,500 square feet
#2 MAXFLO Oscillating Hose 360 Degree Rotary Sprinkler Watering System
Sprinklers for Yard | Water Sprinklers for Lawn | Gardening Sprinkler for Yard | Oscillating Hose 360 Degree Rotary Sprinkler Watering System | Large Coverage Area | Quick Leakproof Connection
Powerful irrigation the Maxflo garden water sprinkler 360 degree automatic rotary water spray with 3 adjustable rotating arms and 12 built-in angled spray nozzles delivers powerful irrigation to every corner of your garden
Extra large coverage area the sprinkler water spray distance covers up to 33 ft. with a powerful 80 psi water pressure, covering up to 3600 square feet. the 2 water inlets connect with all standard water connections
Stable and sturdy never worry about moving or tipping over while using it. the sprinkler is designed to be stable made from premium abs plastic and a rust proof polymer
Perfect for irrigating lawn and garden: the water from this sprinkler falls in a uniform, rain-like pattern. it's easy to adjust and helps avoid flooding and soil erosion. it also could provide a fun summertime playing with kids and dogs!
Product has been designed and manufactured with the customer needs mind, superb quality standards
When it comes to budget options, the MAXFLO Oscillating Hose 360 Degree Rotary Sprinkler Watering System is ideal for a small to medium sized garden, and can cover up to 3,600 feet squared. 
Even if you're unsatisfied with the spread of the MAXFLO Oscillating Hose 360 Degree Rotary Sprinkler Watering System, additional sprinklers can be attached to create a more advanced system. 
What We Like:
360 degree oscillating motion
3,600 feet of coverage
Affordable
Can be attached to multiple other sprinklers
#3 Aqua Joe SJI-OMS16 Oscillating Sprinkler
The Aqua Joe SJI-OMS16 Oscillating Sprinkler offers up to 4,500 square feet of coverage and has fully customizable spray patterns. The Aqua Joe SJI-OMS16 Oscillating Sprinkler is also adjustable and its spray length and power can be easily changed to suit your needs. In addition to this, the Aqua Joe SJI-OMS16 Oscillating Sprinkler also features clog-resistant nozzles to prevent dirt, insects or other debris from affecting performance. 
What We Like:
Durable and long-lasting design
Can cover up to 4,500 square feet
Clog-resistant nozzles
Customizable spray pattern
#4 Orbit 56281 Oscillating Sprinkler
The Orbit 56281 Oscillating Sprinkler is an affordable, sturdy sprinkler which is built to be dependable. Its simplistic design is standard for an oscillating sprinkler and it doesn't need to brag about its features. This sprinkler is ideal if you just want a reliable oscillating sprinkler that will do its job. The Orbit 56281 Oscillating Sprinkler can cover up to 4,000 square feet and its only adjustable option is the ability to change its coverage.
What We Like:
Simple
Reliable
Easy to install
Adjustable spray distance
#5 GARDENA 1975 Aquazoom Oscillating Sprinkler
Gardena 1975-U AquaZoom Fully Adjustable oscillating Sprinkler, for Flexible, Leak Proof and Precise Watering, Compatible with Any Hose Brand, Made in Germany, 1975: 3900 SQ. FT, Grey
Even watering: The nozzles of the oscillating sprinkler continuously ensure even and precise lawn watering on areas between 96 sq ft and 3900 sq ft while preventing puddles or dry patches formin
Versatile: With 2 different adjustment options, alter the watering range to fit your garden using the built in sliders, and modify width for precise watering using the width controllers
Super durable: While the high quality, German made materials ensure durability, the extra-wide supporting feet and metal components helps the sprinkler stand firmly
Easy to clean: The water connection of the AquaZoom has a removable, rust-free metal filter that prevents dirt from entering the oscillating sprinkler and can be easily cleaned with a tap
Items delivered: 1x GARDENA AquaZoom Oscillating Sprinkler, made in Germany with 3900 sq ft max area coverage, 9 ft - 59 ft range of spray, 45 ft max width, with 1x GARDENA quick connect fitting
When it comes to oscillating sprinklers, the GARDENA 1975 Aquazoom Oscillating Sprinkler may be considered to be on the expensive side, but it makes up for it in features and durability. This sprinkler is capable of seeing many years of use, and is ideal for many garden ize due to its impressive range of 300 square feet, right up to 4,000 square feet. Bother the watering width and length can be altered when using this sprinkler, to give the owner more control over the range that the sprinkler should have. 
What We Like:
Durable
Watering width and length can be adjusted 
Easy to install
Great for all garden sizes
Buyer's Guide
When it comes to purchasing an oscillating sprinkler, there are certain things that you need to consider which may impact your purchase. 
Size of Lawn
The size of your lawn may dictate which oscillating sprinkler will work best for it. Some models handle larger lawns better than others, and some are made with solely smaller lawns in mind. It is possible to purchase oscillating sprinklers with adjustable values, meaning that most will cover small to large spaces fairly easily if the settings are correct. 
Shape of Lawn
The shape of your lawn can also help you decide which sprinkler will be best for it. Oscillating sprinklers work best on square or rectangular lawns due to the shape and size of their coverage area. Some oscillating sprinklers are more ideal for longer lawns due to their spray, whilst others are more ideal for more compact ones.
Climate
The climate in which you're planning on using your sprinkler can also affect the type of sprinkler you buy. Oscillating sprinklers in particular should be used at certain times of the day in particularly hot climates. This is due to the height that the spray often reaches, meaning that during hot days some of the water can evaporate before it has a chance to hit the floor. 
Price
Oscillating sprinklers are among the most popular types of sprinklers due to their easy setup, low maintenance and effectiveness. In addition to this, oscillating sprinklers are often one of the cheapest types of sprinkler on the market, and are reliable due to their durability. 
Materials and Durability
When purchasing a sprinkler system of any kind, it's important to think about how long you're intending to use it for. A more durable, better made sprinkler will be more likely to last longer than a sprinkler that is flimsy or made from materials that aren't suitable for its role. Purchasing a durable sprinkler may save you money in the long run, as it will be longer until it needs to be replaced. 
Water Pressure
A sprinkler's performance relies heavily on the pressure of the water being supplied to it. The reach of an oscillating sprinkler is often dependent on the water pressure, but most oscillating sprinklers are still usable with poorer water pressure. You can make some changes to increase your water pressure for sprinklers, but it is always best to test out your water pressure before investing. 
Water Conservation
Every sprinkler will require a different amount of water to work effectively. Some housing areas, however, may have restrictions in place for water during times of drought or hot weather. As a result, certain irrigation systems can be banned.
Watering Range
Whilst the watering range of your sprinkler system should reflect the size and shape of your lawn, it's worth considering whether or not you'd prefer a sprinkler that has an adjustable watering range. An adjustable watering range can mean that the sprinkler can be used in different areas, of different sizes. In addition to this, the strength of the water may also be adjustable, which is more ideal for people who require a soft water due to fresh grass seed being planted in their yard or having a delicate flower garden. 
Warranty
Some sprinklers are available with warranties, meaning that in case of damage or breakage, they can either be replaced or refunded. If you're particularly cautious about buying a sprinkler, perhaps investing in one that has a warranty would provide you with a safety net if anything were to go wrong with it. Some of the more expensive oscillating sprinklers come with fixed warranties, meaning that if they break, you haven't just wasted a small chunk of cash. 
Final Thoughts
Oscillating sprinklers often fit the same mold. They're usually the same shape, have the same features, and even offer the same amount of coverage. Some, however, have some features that stand out more than others, or are particularly durable or inexpensive. When looking for a specific type of sprinkler, the best way to find which one is best for you is to consider your needs and then compare several products to see which one will be most beneficial to you.