What Size Lawn Mower Do I Need?
Lawn mowers can be bulky pieces of machinery which may take up lots of valuable space in areas like garages and garden sheds. Due to their complexity and different moving parts, it isn't advisable to store them outside. 
The size of your lawn mower should depend on several different factors. When deciding which lawn mower is best suited for your needs, you need to consider the size of your lawn, the size of your storage, your budget, and the type of lawn mower that you would prefer.
Different Types of Lawn Mowers
Different types of lawn mowers have different usage expectations and mileage. Knowing the different types of lawn mowers and their capabilities can help narrow down your search for the perfect lawn mower for your yard. 
Push Lawn Mowers
Push mowers, also known as reel lawn mowers, are entirely motorless and are one of the most draconian ways of trimming your lawn. Whilst they can be laborious to use, they are energy efficient, easy to store, and long-lasting. Due to the nature of their use and the extensive exertion needed to use them, push mowers are often used in smaller yards.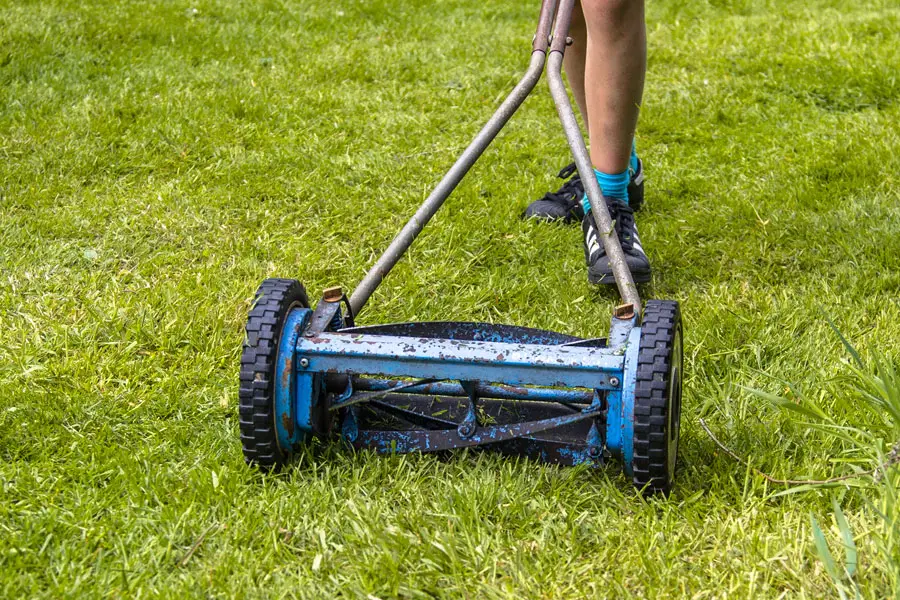 Motorized Push Lawn Mowers
Motorized push lawn mowers are the most common lawn mowers available, and they come in many varieties, including blade type and power type. These types of lawn mowers are similar in size and effectiveness of motorless push mowers, but due to their added motor, are much faster and require less exertion. 
Motorized push lawn mowers include gas, electric and battery powered lawn mowers of varying sizes and power usage. These lawn mowers are the standard when it comes to gardening, as they are dependable, budget-friendly and offer many different variations and options. They are ideal for small-to-medium yards due to the effort still needed to walk them around the yard. Self-propelled mowers may be used to mow larger lawns due to their ability to propel themselves forward, and merely need to be guided. 
If using a motorized push lawn mower, you may be limited due to the length of the electric cable. Gas powered lawn mowers and battery powered lawn mowers do not have this issue, but are limited in their own ways. For instance, gas powered lawn mowers require a supply of gas, whilst battery powered lawn mowers typically only last upwards of an hour or two due to the size of their battery packs. 
Autonomous Lawn Mowers
Autonomous lawn mowers are small, battery powered lawn mowers that mow the lawn without assistance. They use a virtual mapping system and a series of applications to mow the lawn accurately. These lawn mowers are best used for small lawns due to their power source being limited, and their small size. 
Ride On Lawn Mowers
Ride on lawn mowers are always big enough to be rode on, but vary vastly in size. These lawn mowers are designed to mow multiple acres, and are often gas powered to maximize productivity. They aren't ideal for small or medium lawns due to their vast size, and limited storage options. 
Lawn Mower Blade Size
Along with the size of a lawn mower's body and deck, their cutting width also varies amongst different models. Of course, smaller types of lawn mower will have smaller cutting widths, but generally speaking, most lawn mower's cutting widths remain within a certain range. Larger cutting widths leads to a larger lawn mower, and faster mowing. 
| | |
| --- | --- |
| Lawn Mower Type | Cutting Width Range |
| Push Lawn Mowers | 11-36" Cutting width |
| Ride On Lawn Mowers | 30-90" Cutting width |
Best Lawn Mower Size
The best lawn mower size for your lawn depends on multiple factors. Whilst this is a decision that only you can make in regards to your lawn, you can easily consider these variables to help you make the right decision. 
Lawn Size
The size of your lawn is important when it comes to selecting the correct lawn mower. Most battery powered mowers can mow up to a ¼ acre before their battery dies, whilst some gas mowers can mow up to an acre on a single tank of fuel. Electric mowers are corded and are therefore limited by the length of their cable. Reel mowers are laborious and can become tiresome quickly. 
Ride on mowers are cable of mowing any size lawn, but are best suited for lawns lager than an acre, due to their size, price and storage space required. 
Ironically, having a smaller lawn allows for more choice when it comes to determining which lawn mower is best for you. It offers you more options when it comes to push mowers, or even autonomous ones.
Storage
How your lawn mower is stored may be at the bottom of your priorities when looking to purchase one, but it's definitely something that should be considered. How you store your lawn mower, and whether you have the space, will impact your lawn mower's performance and lifespan greatly. Lawn mowers should be kept in a cool, dry place when not in use. This is to prevent overheating, and water and frost damage. It's important that they are winterized appropriately and are maintained when advised to ensure that their performance is unchanged. Larger lawn mowers are, of course, harder to store and can also be harder to maintain. The easiest lawn mowers to maintain are reel mowers due to their lack of parts or fuel intake. 
Price
When choosing the correct lawn mower for your yard, the price should always be considered. Lawn mowers can be potentially very expensive investments, and aren't always budget-friendly. Choosing a lawn mower that is the correct size for your lawn can potentially help save costs, as you won't be paying for unnecessary features. The most expensive types of lawn mowers are ride on mowers, due to their size, speed and fuel intake. They are also the most ideal for large lawns due to these factors. However, autonomous lawn mowers can be equally expensive due to the convenience and technology that they possess. These mowers are best used for small lawns, due to their small size, fuel intake and waste storage size. Reel lawn mowers remain cheapest, as they are the simplest in terms of design and require no fuel, and other push mowers find themselves as average-priced, ranging anywhere from $100-$1000 depending on quality and features. 
Personal Preferences
When it comes to choosing the correct lawn mower, you need to consider your own personal preferences. The best lawn mower for you will be one that ticks as many boxes for you as it can. You may have a particular fondness or disliking for a particular type of lawn mower, and may be drawn to it or avoid it. In addition to this, you could also prefer the ease of a self-propelled lawn mower in comparison to the more backbreaking work that a reel lawn mower requires. 
Gasoline powered lawn mowers aren't everyone's cup of tea due to the emissions that they produce, and more people are choosing to go electric or battery powered due to their lack of emissions. 
Final Thoughts
The lawn mower that you choose to help maintain your lawn is one that should be able to adequately navigate your lawn without struggling due to the size. Any garden less than an acre is ideal for push, reel or autonomous lawn mowers, whilst anything later than an acre may require a more heavy-duty lawn mower such as a ride on one.