How Much Does a Riding Mower Weigh?
Riding mowers are the most ideal type of mower for large areas of grass. They're designed specifically with large areas in mind, and get the job done quickly and efficiently. Riding mowers, however, are large to accommodate the area sizes that they must cover. 
Riding mowers must be large enough to be sat on and controlled, but their sizes vary greatly. As a result, their weights also vary greatly, and are usually anywhere between 300-700 lbs. This depends on multiple factors, such as the size of the vehicle, the size of the engine and the material that it is made up of. 
The weight of a riding mower is often explicitly stated by the manufacturer in the product description or in the product's handbook.
There are a few factors to consider which will change the weight of your riding lawn mower. 
Why Should I Know How Much My Riding Mower Weighs?
The weight of your riding mower can affect its performance, especially on uneven terrain or on inclines. If you have any structures in your garden such as ramps or even bridges, the weight of your lawn mower could hinder them or add too much pressure to their structures. You should also be wary of the weight of your mower when it comes to transporting it from area to area. A riding mower will likely need to be transported from area to area, especially if being used in a large field. The weight of the mower may affect the way in which it is transported, as it will need to be supported by a trailer or other transport vehicle. 
Types of Riding Lawn Mowers
There are many different types of lawn mowers, and there are three main types of riding mowers which vary in size and weight. This is because each type of riding mower is used for different purposes, and can be applied in different scenarios. 
Rear Engine Riding Mower
Rear engine riding mowers are on the smaller side of available riding mowers. They're more compact, and more suited to very large gardens than areas like fields and parks. These mowers are probably one of the more common types of riding mowers that homeowners choose to invest in due to their smaller size. 
Zero Turn Riding Mower
Zero turn riding mowers are on the higher end of available riding mowers on the market. They're larger and often have more features than rear ending riding mowers, and are ideal for large areas upwards of 2.5 acres. They are controlled by lap bars which enables them to maneuver very easily around the lawn. These mowers are slightly bigger than rear engine riding mowers, and can have decks of up to 60". 
Lawn Tractor 
Lawn tractors are often reserved for very large areas of grass, such as parks or roadside verges. This is because lawn tractors are huge in comparison to smaller riding mowers which are mainly used for gardens. Whilst large, they have their fair share of disadvantages such as lacking in ability to maneuver. As a result, they can actually be more inexpensive than some zero turn riding mowers, even though they can sometimes be even larger and more powerful than them. 
Power Source
Riding mowers are more than often powered by gas. This is because they cannot be plugged into an electrical socket when in use like walk-along electric mowers, due to their size, energy input and the size of the lawn which they need to cover. Some riding mowers are becoming electric, but gas mowers still dominate the market due to their ease and availability. 
Whilst it may seem irrelevant to this article, it's worth noting that a gas-powered mower will fluctuate in weight as the gas will add to that weight. Each gallon of gas typically weighs 6.3lbs, which can add up if your lawn mower requires more than a gallon or two of gas for each run.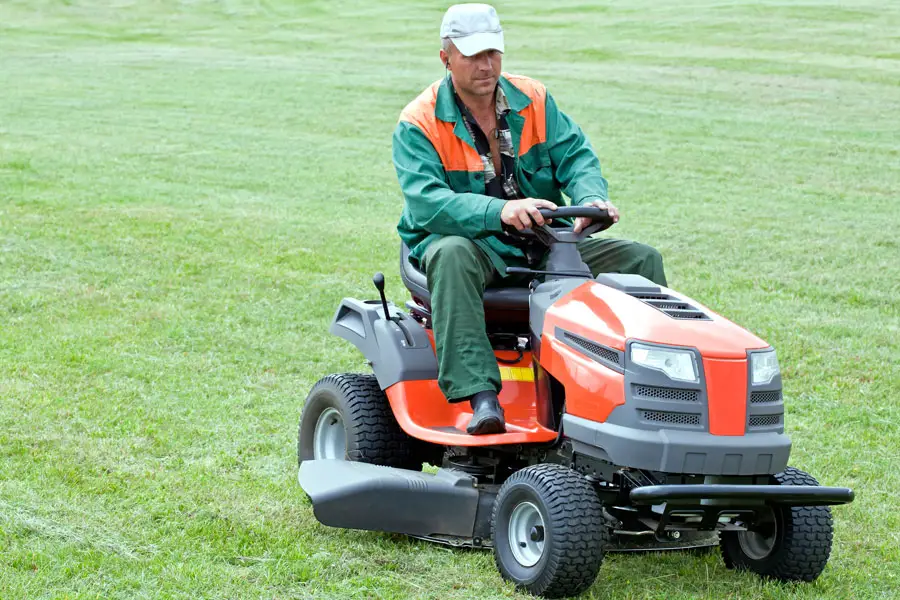 Cutting Deck
The size of the cutting deck will determine the size of the lawn mower. The cutting deck is usually very large on riding mowers, due to the fact that they are built to cover large areas. Whilst the cutting deck itself adds little to no weight to a machine, it will determine the size of the machine which may lead to larger and heavier engines, blades and more gas needed to run substantially. 
Additional Features
Additional features can be added to a lawn mower which can increase its weight. These added features can include things like trailers, mulching equipment or bags of off cuttings. Transporting your mower from place to place may require a trailer, especially if you intend on using it in very large areas. 
Riding Mower Weight
Each and every riding mower has its own weight which can be found in the product description or in the owner's manual. One way to average the weight of a riding mower is to compare it to other lawn mowers on the market to see how similar mowers weigh. 
| | |
| --- | --- |
| Lawn Mower | Weight |
| Mountfield T38M-SD  | 362lbs (164kg) |
| John Deere E100 | 393lbs  (178 kg) |
| Craftsman T110 | 510lbs (231 kg) |
| Craftsman ProSeries | 580lbs (263kg) |
| Cub Cadet XT1 | 630lbs (286 kg) |
Final Thoughts
A riding lawn mower's weight is determined by its size, materials it is made from, engine capacity and deck size. Whilst most riding lawn mowers range between 300-600lbs, there are of course outliers which will be even lighter or heavier, depending on the aforementioned variables. When choosing a lawn mower, one needs to make sure that the weight of it is suitable for transport and the yard's landscape. Take note that, due to their weight, riding mowers are unsuitable when mowing new grass for the first time.