Aerate and Overseed Your Lawn: The Best Time and How to Do It Right
Two lawn care practices commonly carried out together are the process of aeration and overseeding. By carrying out overseeding immediately after aerating your lawn, you can enhance the benefits of both processes. As a result, you'll be left with a dense lawn full of healthier grass plants.
The best time to aerate and overseed a lawn is either in the spring or the fall, depending on the type of grass you're growing. If you have warm-season grass, the best time to aerate and overseed is in the spring; if you have cool-season grass, the best time to aerate and overseed is in the fall. These are the periods of most active growth for each grass type, which encourages quick recovery from the aeration process and fast germination of your new seed.
What is Overseeding?
Overseeding, sometimes referred to as reseeding, is the process of spreading new grass seed on an existing lawn. 
This process is typically used to fill in bare spots on the lawn, repair discolored areas of grass, and increase turf density; in short, overseeding is a great way to generally improve the overall health and appearance of your lawn. 
You should consider overseeding if you fit any of these circumstances:
Your lawn has patches of yellow or brown grass
Your lawn has areas of damage from foot traffic, fungal disease, or pests
Your lawn is thin
Your lawn looks worn out and tired
Your lawn is prone to weed infestations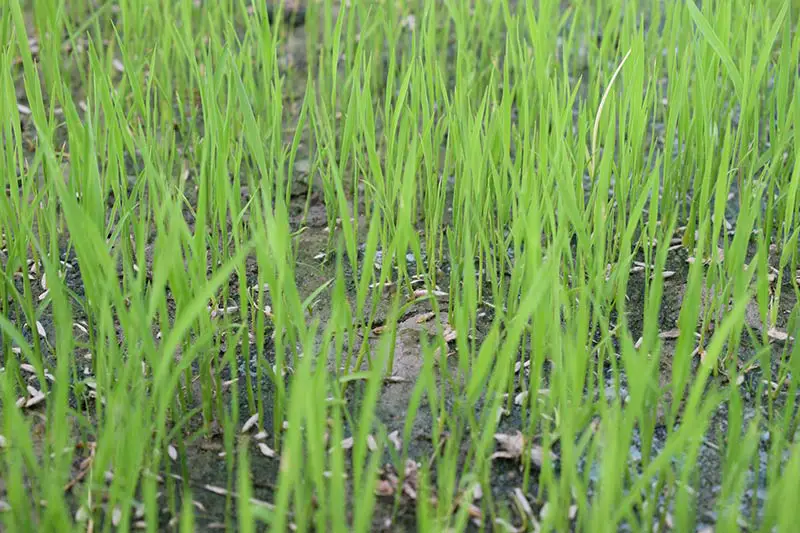 What is Aeration?
Lawn aeration is the process of using an aerating tool to break up and loosen the soil in your lawn.  
When aerating your lawn, the goal is to create new pathways in the soil that allow better circulation of air, water, and nutrients around your grass' roots. The loose soil also enables the grass plants to grow deeper root systems that are better able to access these elements. As a result, the grass plants are stronger and healthier, leaving a lawn with a general improvement in growth and luster. 
Your lawn will particularly benefit from aeration if:
Your lawn gets a lot of use from people, pets, lawn equipment, or vehicles
Your lawn has clay-heavy soil
The soil in your lawn is overly compact, hard, or dry
You live in an area with typically dry conditions or you have recently gone through a period of drought
You live in a newly built home
Why Aerate and Overseed Your Lawn?
Lawn aeration and overseeding are often carried out in conjunction with each other to enhance the benefits of both processes. 
By aerating before overseeding, you create the ideal environment in your lawn for your grass seed to germinate, as well as improving the growing conditions for the current mature grass. The aeration process will give your new seedlings plenty of space to grow deep root systems; it also improves the movement of air, water, and nutrients around the grass' roots, which are all vital substances that both your mature grass and new seedlings need to grow. 
How Often Should You Aerate and Overseed Lawn?
Generally speaking, you should aerate and overseed your lawn once every one to three years for best results from both processes. The amount of aeration and overseeding your lawn requires will ultimately depend on the type of soil you have.
If you have clay-heavy soil, aerate and overseed your lawn once per year to keep it full and healthy. Clay-heavy soils are highly prone to compaction and will therefore benefit from annual overseeding and aeration. This is also the case if your lawn receives a lot of traffic from people, pets, and vehicles, and is compact as a result. 
If you have sandy or loamy soil, you can aerate and overseed your lawn once every two to three years. These soils are less prone to compaction as they have a lighter, porous texture that naturally promotes the movement of water and nutrients in the turf. Also, it will only be necessary to aerate and overseed your lawn every two to three years if it's generally in healthy, well-maintained condition. 
Cost to Aerate and Overseed Lawn
The cost to aerate and overseed a lawn varies depending on whether you're carrying out the project yourself or paying a professional to carry it out for you. You may have to spend anywhere from $25 to several hundred dollars depending on the resources at your disposal. 
Cost to Aerate and Overseed Lawn as DIY
With all equipment and resources included, the total average cost to aerate and overseed your lawn as a DIY job will fall somewhere between $30 to $550. While you won't have to pay for labor, you will have to spend money on any of the resources you don't currently own; this includes the cost of renting or purchasing the aeration equipment, as well as the price of the seed and fertilizer of your choice.
The breakdown of the average costs to aerate and overseed your lawn yourself is as follows:
Cost to purchase manual core aerator: $30
Cost to purchase aerator mower attachment: $200
Cost to rent aerator mower attachment: $60 – $90
Cost of seed and fertilizer: $150
Cost of lawn spreader: $50 – $200
These figures are just rough estimates; as we've detailed above, the costs vary depending on which type of aerating equipment you use and whether you opt to purchase or rent it. Of course, if you already own such equipment, you won't need to spend anything in this regard. We've provided some guidance on each aerating tool later in this article if you're unsure which to choose for your DIY project.
Cost to Have A Professional Aerate and Overseed Lawn
The cost to have a professional aerate and overseed your lawn ranges based on the size of your lawn. Professional lawn care companies typically charge for these services using either an hourly rate or a flat fee. 
The breakdown of the average cost of a hiring a professional company to aerate and overseed your lawn is as follows:
Flat fee for professional aeration: $15 – $17 per 1,000 square feet of lawn, $175 per quarter-acre
Cost per hour for professional aeration: $15 – $32 per hour
Flat fee for professional overseeding: $90 – $180 per 1,000 square feet
When weighing up whether it would be more cost effective to DIY the job or have the professionals do it for you, you need to factor in aspects like the equipment that you already own and the size of your lawn. After making these calculations based on the rough guidance we've provided, you'll be able to assess which method will fit your budget best. 
What's the Best Tool to Aerate a Lawn?
As we mentioned in our cost breakdown, there are two main tools you can use to aerate your lawn; either using a manual core aerator or an aerator mower attachment.
Core Aerator
A core aerator is a piece of equipment that has a hollow tine at the end of a long handle. These tools are used to punch plugs of soil out of the lawn; this leaves behind lots of holes that act as the pathways for the circulation of water and nutrients.
Compared to the price of an aerator mower attachment, core aerators are the cheaper option of aerating your lawn. However, they are more laborious to operate, especially if you're working on a larger area. These tools are best suited for small to medium-sized lawns and require some stamina on your part to use. 
If you choose to go the core aeration route, we recommend this top-rated core aerator from EEIEER.
EEIEER Lawn Coring Aerator Tool, Manual Plug Core Aerators & Clean Tool, Yard Aeration Tools with 4 Hollow Slots for Compacted Soils & Garden Lawns, 36'' x 11.4'' Black
⚘【A Great Helper for Lawn Yard Garden Care】The 36'' yard care aeration machine will allow you to care for your lawn without back strain, the footpad will provide extra leverage for quick push so you can aerate your whole yard easily and efficiently. And mud falls from the bottom of the coring aerator, so don't worry about getting your shoes and feet dirty. Padded T-bars increase comfort in the hand, let you easily enjoy the fun of manually aerating your lawn, yard, garden!
⚘【Reduces Soil Compaction,Help Plants Grow】The manual lawn coring aerator will help you loosen up the soil and reduce soil compaction, allowing the water, oxygen and nutrients to penetrate into the roots of plants smoothly, helping plants grow better! With our yard aeration tools, say goodbye to the hard dry and yellow yard!
⚘【4 Tines Design, Save Your Time & Effect】Our lawn aerators are designed with 4 coring tines. The 4 tines work at the same time, which can greatly improve work efficiency and save you time and effort. Warm tips: if your soil is hard and dry, please pre-soak your lawn so that the yard aerator tool can work best. When using the aerator, if you can't penetrate it into the soil, please step on the foot pedal and shake it back and forth a few times, then you will penetrate the soil easily.
⚘【Semi-hollow Coring Section & Cleaning Stick, Refuse to Block】EEIEER core aerator adopts a semi-hollow design in the tines part, which will reduce the friction between the yard tools and the soil, blockage probability will reduce by 80%. Besides, we specially provide you with a cleaning stick, once it is clogged, you can use this stick to clean easily!
⚘【Upgraded Thickened Design, More Sturdy & Durable】Our upgraded grass aerators for lawn use high-density alloy material, and also thicken the inner wall of the aerator (upgrade from 1.2mm to 2mm), further reducing the possibility of breakage and increasing the max allowable load to 300 lbs. The aerator's surface is painted to prevent rust, which is more durable. The aerator grass tool is easy to install, just need a few minutes!
Aerator Mower Attachment 
An aerator mower attachment is a device you can attach to the back of a riding lawn mower. They utilize a set of rotating plugs roughly 1 to 1.5 inches long that pull plugs of soil from the turf as you drive your mower around your lawn.
Aerator mower attachments are more costly than core aerators to purchase outright. These tools are more suitable for larger lawns as they allow you to cover more ground using less time and effort. If you're working on a larger area or you want to put less effort into the process, an aerator mower attachment is the better choice. 
This aerating mower attachment from Agri-fab is our top recommendation if you have a larger amount of thatch to deal with.
Sale
Agri-Fab 40-Inch Tine Tow Dethatcher 45-0294,Black
Tine de-thatcher uproots dead, matted grass and dislodges hard-packed dirt for planting
Twenty Durable spring tines for easy thatch removal; Penetrates and turns up dried grass, weeds, and soil in 40-inch wide swathes
Rust-proof and replaceable spring-loaded tines are heat-treated for greater durability
Transport handle for easy raising and lowering of the tines
Made in USA
What's the Best Tool to Overseed a Lawn?
To overseed your lawn effectively, the best tool to use is a lawn spreader. There are two main types of lawn spreaders you can use for this purpose; either a broadcast spreader or a drop spreader.
Broadcast Spreader
Broadcast spreaders use a spraying mechanism to spread the contents of their hopper in an arc shape. Due to this mechanism, broadcast spreaders allow you to spread the seed beyond the span of the equipment's width.
As broadcast spreaders enable you to cover more area using less passes of the equipment, they are best suited for medium to large lawns. You should opt for this tool if you're planning to overseed an entire lawn rather than spot treating specific areas. 
Scotts produce broadcast spreaders in a range of sizes, with their Elite spreader being the best choice for lawns of all sizes.
Sale
Scotts Elite Spreader
Dual rotor technology provides unbeatable accuracy and a 6ft spread pattern for time savings. This is our most accurate spreader ever
Holds up to 20,000 sq. ft. of Scotts lawn product, including grass seed, fertilizer, salt and ice melt
Never-flat tires to conquer any terrain
Ergonomic handle with smartphone holder
Minor assembly required - Remove agitator pins when spreading coarse rock salt
Drop Spreader
Drop spreaders work by letting the content of their hoppers drop through an opening on the underside of the equipment. The contents of the hopper will only fall where you walk the spreader, allowing a more accurate distribution of the grass seed. 
As they have a more limited range, drop spreaders are best suited for smaller lawns or areas. If you're only overseeding certain portions of the lawn, a drop spreader is the best choice. 
This drop spreader from Gardena is a great choice if you're overseeding or seeding a small area of lawn.
Gardena 430 Classic 17-Inch 2.2 Gallon Drop Spreader 300
Freewheeling function of the wheels: spreads only when pushed, no application when pulled backwards.
Use to apply fertilizer, seeds, lime, winter grit, salt, sand and chippings.
International dosage table: simply adopt the setting for standard fertilizer from the table to achieve the correct dosage.
With tractor profile wheels: for optimum grip on a wide range of surfaces whatever the application.
Made of high-quality plastic, corrosion-resistant and crack-proof.
Best Time to Aerate and Overseed Lawn
The best time to aerate and overseed a lawn is during the period of most active growth for the grass type you're planting. For cool-season grasses, this means the best time to aerate and overseed in the spring or early fall; for warm-season grasses, the best time to aerate and overseed is in the late spring to early summer. 
It's crucial to carry out the aeration and overseeding processes when your grass is actively growing for the best chances of success. By aerating during the active period of growth for your grass, it enables the grass to recover as quickly as possible from the process. With overseeding, this is also the best time to carry out the process as it encourages the fastest germination and establishment of your new grass seed. 
Best Time to Aerate and Overseed Cool-Season Grass
If you live in a northern region in the US, you most likely have a cool-season grass type. These grasses prefer cooler temperatures and grow most actively in the spring and fall. Therefore, the best time to aerate and overseed cool-season grass is at these times of the year.
Best Time to Aerate and Overseed Warm-Season Grass
For those who live in the southern regions of the US, it's more likely that you have a warm-season grass type. Warm-season grasses grow most vigorously in the warmer temperatures of the late spring to early summer. You should therefore overseed warm-season grass at this time of year for best results. 
How to Aerate and Overseed Lawn
If you want to DIY the jobs, we have gone through the basic steps of aerating and overseeding your lawn below. You should aerate the lawn first, then overseed it afterward to get the best results from both activities.
1. Gather Necessary Equipment
First, you'll need to gather all of the necessary equipment you plan to use for the aerating and overseeding processes. Either purchase or rent your chosen aerating equipment and lawn spreader.
2. Purchase Grass Seed
You'll also need to purchase an appropriate grass seed for overseeding. Pick a grass seed that is compatible with the existing grass on your lawn. If you're unsure which grass seed to choose, you should first identify the grass that you're currently growing.
3. Prepare Lawn for Aerating and Overseeding
Prepare your lawn for the aerating and overseeding processes. Walk through your lawn and remove any debris such as rocks, stones, twigs, and anything else that might interfere with your equipment. 
You should also mark out the location of any irrigation heads, lines, and any other underground objects in the lawn using brightly colored flags or posts. This is to avoid causing accidental damage to these objects with the aerating equipment. 
4. Aerate Lawn
The day before you plan to aerate, water the lawn, adding at least 1 inch of water to moisten the soil. This will ease the aeration process, particularly if you're using a core aerator. 
Using your aerating tool of choice, start running the equipment across the surface of the lawn. Aim to remove as many cores as possible; this works out at about 20 to 40 cores per square foot of soil. If you have difficulty removing this amount of cores in one pass, try going over the area again in a different direction to the first pass. Some parts of the lawn may be more compact than others and will require more passes to sufficiently aerate the soil. 
After aerating, leave the soil plugs on the lawn. While it may be tempting to remove the plugs straight away, this would be a mistake; the plugs will break down gradually on their own, acting as a slow-release fertilizer as they decompose.
5. Overseed Lawn
After aerating the lawn, you can then move on to the overseeding process. Fill the hopper of your lawn spreader with your chosen grass seed. Next, set the settings on your spreader in accordance with the seeding rate provided with your specific grass; this will be listed on the seedboxes or packets.
If overseeding the entire lawn, begin walking your broadcast spreader in straight rows, slightly overlapping each row as you go. If you're only overseeding certain patches, use a drop spreader to apply the seed directly to these areas. Continue until you have completely covered the area you're overseeding. 
6. Rake-in Seed
Use a rake to gently work the seed into the lawn. This will help the new seed to get beneath the existing grass blades and make better contact with the underlying soil; if the seed isn't able to make contact with the soil surface, it won't be able to properly germinate or establish itself. 
7. Add Starter Fertilizer to Lawn
Once you've incorporated the seed into the soil, add an application of an appropriate starter fertilizer. Starter fertilizer is specifically formulated to contain the ideal balance of nutrients for grass at its earliest stages of growth. You should look for a fertilizer ratio that has a higher amount of phosphorus, some nitrogen, and little to no potassium. This ratio will encourage the development of the grass' roots, promoting a better establishment of your new seedlings.
8. Water Lawn
Finally, water your lawn to work the fertilizer into the soil and trigger the germination of your new seed. You want to add enough water so the top 4 to 8 inches of soil are moist without being sodden.