Best Lawn Mower for Small Yard
When entering the world of lawn mowers, it's possible to become overwhelmed by the amount of variety there is on offer. Each lawn mower has its own unique features, benefits and disadvantages. When deciding on which mower is best suited for your lawn, one must consider the facts surrounding your circumstances.
Small yards don't often require the best, high-end lawn mowers to mow them. In fact, most of the more expensive options available, such as ride on mowers and self-propelled mowers, are tailored to larger lawns. 
Even though some of these larger lawn mower varieties can be ruled out, there are still plenty of types available which are ideal for smaller yards. 
American Lawn Mower Company Push Reel Lawn Mower
Goplus Corded Electric Lawn Mower
Husqvarna Automower Robotic Lawn Mower
BLACK+DECKER 3-in-1 Corded Lawn Mower
Sun Joe MJ401C Cordless Lawn Mower
Choosing the Right Lawn Mower
Choosing the right lawn mower for a smaller yard can be difficult, as most lawn mowers aim to be more effective on larger lawns. When choosing a lawn mower for a smaller lawn, there are a couple of things to consider.
Yard Shape
An irregularly shaped lawn may require a lawn mower that is easier to maneuver without messing up the lawn. This can also be said for lawns that may have obstacles on them, such as statues or sprinkler heads. 
Power Type
Lawn mowers can be powered by a few different sources. Gas, electric, battery powered and push mowers all have different capabilities due to the power source that they use. The power source of your lawn mower matters less when mowing a small lawn, as it will require less power and time to complete the task. 
Size
The size of your lawn mower can have many consequences. Not only are larger lawn mowers best for large lawns, they're also harder to store and harder to maneuver and push due to their weight. 
Features
Each lawn mower has its own features depending on the make and model. Some of these features can include mulching options, mulch bags, safety features, speed settings, and the drive that it runs in. 
Preference
Everybody is entitled to their own preferences, and certain styles of lawn mower are preferred above others on an individual basis. If torn between two models, sometimes the best one is the one you like the look of more, and that's okay.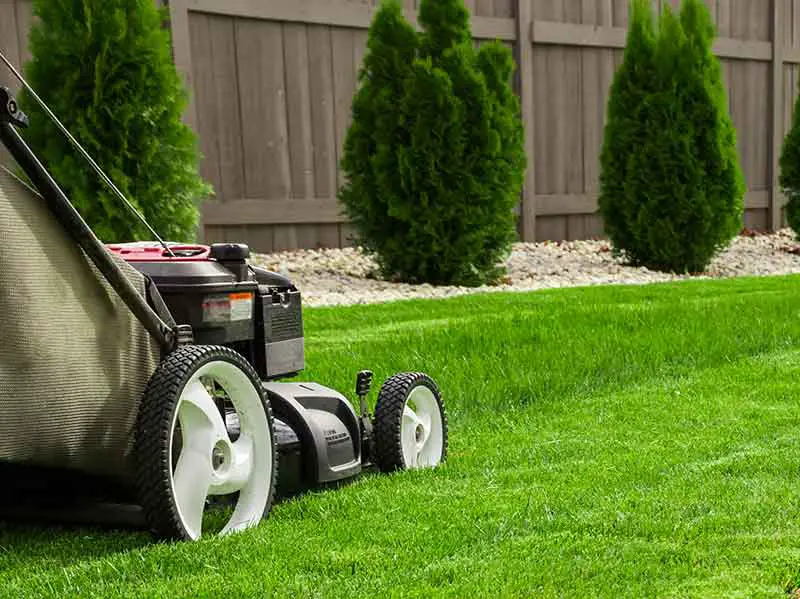 The Best Lawn Mowers for Small Yards
The lawn mower you deem the best will be based on your own preferences and circumstances. Whilst not all these lawn mowers may be ideal for your situation, they each have their own benefits which are ideal for use on small lawns. 
Budget Option – American Lawn Mower Company Push Reel Lawn Mower
Sale
American Lawn Mower Company 1204-14 14-Inch 4-Blade Push Reel Lawn Mower, Red
4-blade reel with a cutting width of 14" and durable 8.5" polymer wheels for maximum maneuverability.Lightweight at only 19 pounds
Mechanical lawn mower with an adjustable blade height of 0.5"-1.75" with scissor action cut
Manual grass cutter blades made of heat-treated alloy steel that stays sharp for years
Environment-friendly alternative to gas-powered lawn mowers which is pollution-free and noise-free; Low maintenance, lightweight and easy to use
Capable of cutting grass up to 4 inches tall
Push mowers have a certain level of charm that goes along with them. Being one of the oldest types of mowers still available for purchase, these reliable pieces of kit have been improving and reforming for the past century that they've been around. The American Lawn Mower Company Push Reel Lawn Mower is handy as it can mow lawns without any source of power needed, except a person to push it along. This type of lawn mower is completely emission-free, fairly quiet and the most eco-friendly option when it comes to mowing a lawn. 
Specifications:
Power Souce: N/A
Power Level: N/A
Cutting Width: 14"
Weight: 20lbs
Goplus 14" 12-Amp Corded Electric Lawn Mower
Goplus 14-Inch 12 Amp Electric Lawn Mower w/Grass Bag, Folding Handle, Electric Push Lawn Corded Mower (Red)
【Height Adjustable and Comfortable Grip】Overall Dimension: 43.5" x 15.5" x 37" (L x W x H). This lawn mower features 3 level adjustable cutting height: 1''/1.6''/2.2'', which is suitable for the perfect cutting on all types of grass. Equipped with ergonomic curved handle, the electric lawn mower provides a more natural, comfortable grip.
【Perfect Cutting Deck】14-inch cutting deck with 3600 RPM offers a great balance of maneuverability and cutting capacity, making electric mower ideal for different areas. This corded electric lawn mower is a good choice for you to clean your garden more quickly.
【Big Collection Box】With a big collection grass box, the electric lawn mower can collect grass up to 30L. The electric push mower helps you to finish the job quickly and conveniently without dumping the collection box frequently. Besides, the curved handle on box offers a comfortable grip.
【Easy to Operate and Store】With easy push button to start electric mower, no messy oils or gasoline needed. The grass catcher can be detached easily for convenient disposal. Foldable handle makes the electric lawn mower easy to store and takes up less storage space.
【Light Weight Design】The weight of this lawn mower is about 15lbs, lightweight to use or carry. Besides, with the 5.5" big rolling wheels, the electric push mower is very easy and labor-saving to operate on grass. So, the corded push mower could save much energy and makes more convenient for you to mow grass in daily life.
Corded lawn mowers are always a suitable option for smaller yards due to the finicky nature of the attachment cord. The Goplus 14" 12-Amp Corded Electric Lawn Mower is a cut above the rest in this regard as it is specifically designed with small yards in mind. The 14" deck is on the smaller side of decks available for purchase, and keeps it more compact whilst in use and in storage. The Goplus 14" 12-Amp Corded Electric Lawn Mower makes a great alternative to reel mowers and banqueshes the additional effort needed to successfully use a push mower. 
Specifications:
Power Source: Corded Electric
Power Level: 12 Amps
Cutting Width: 14"
Weight: 15lbs
Husqvarna Automower Robotic Lawn Mower
Husqvarna Automower® 115H Robotic Lawn Mower
Automower 115H with a DIY installation kit (please review the pre-installation checklist below under guides and documents)
Husqvarna Automower robotic lawn mower is ready to maintain small or medium-sized lawns up to 0.4 acres.
Efficient battery-powered mower returns automatically to recharging station as needed.
Unique cutting system safely clips grass a little at a time, returning clippings to the soil for a natural fertilizing effect.
Quick and easy adjustment of the cutting height from 2 to 3.6 inches.
Automatic lawn mowers are new, exciting and absolutely ideal for small yards due to their small stature and capabilities. The Husqvarna Automower 115H Robotic Lawn Mower can automatically mow up to 0.4 acres in a single use, and does so without any interference. Automatic lawn mowers require some time to set up due to their need for boundaries or programming, but the Husqvarna Automower 115H Robotic Lawn Mower has streamlined this task and made it easier for any individuals who plan on installing it.
Specifications
Power Souce: Battery Powered
Cutting Width: 8.7"
Weight: 20.7lbs
BLACK+DECKER 3-in-1 Corded Lawn Mower
Sale
BLACK+DECKER Electric Lawn Mower, String Trimmer, Edger, 3-in-1, Corded (BESTA512CM)
3-IN-1 ELECTRIC LAWN MOWER - Corded mower, trimmer and edger combined in one compact machine
LIGHTWEIGHT DESIGN - 9.9lbs with adjustable handle and height positions for comfort and control
AUTOMATIC FEED SPOOL - Feed more cable without stopping or bumping.
COMPACT MOWING - Built for smaller yards with a 12-inch cutting width and 1.6 inch cutting height. RPM: 8000 rpm
UNLIMITED RUNTIME - Gasless corded power with built-in cord retention system to prevent accidental disconnection. Extension cord not included.
The Black+Decker corded lawn mower is more of a multitool than a lawn mower, and it is ideal for those who want to spruce up their lawn even further by using a compact multitool which is easy to squirrel away when out of use. Whilst it may be harder to maneuver than some traditional lawn mowers, the Black+Decker 3-in-1 corded lawn mower comes equipped with a built-in, detachable trimmer and edger to further improve your lawn's look and feel. This mower is truly tiny, in both stature and capacity, which is perfect for very small lawns. 
Specifications:
Power Source: Corded Electric
Power Level: 6.5 Amps
Cutting Width: 12"
Weight: 9.9lbs
Sun Joe MJ401C Cordless Lawn Mower
Sale
The Sun Joe MJ401C is the best cordless lawn mower option for a small yard. Cordless lawn mowers are particularly hard to come by, as they're not ideal for medium-to-large lawns due to their unreliability when it comes to covering large areas. Luckily, they're ideal for small yards due to their short run time, and are much easier to maneuver than corded lawn mowers as there is no cord to get in the way. The Sun Joe MJ401C Cordless Lawn Mower has a battery life of approximately one hour, leaving you with just enough time to mow a small yard before a recharge. In addition to this, the The Sun Joe MJ401C Cordless Lawn Mower is easy to switch on and off using a simple button system, and easy to recharge the detachable battery pack. 
Specifications:
Power Source: Battery-Powered Electric
Power Level: 28 Volts
Cutting Width: 14"
Weight: 23lbs
Final Thoughts
When it comes to purchasing a new lawn mower, one must consider its intended usage. Small yards do not require expensive, high-end lawn mowers that offer a great deal of features as most small lawn mowers will also do a similar job and save money and space when in storage.